How Chadwick Boseman Helped Propel Blerd Culture to Mainstream Media
By Erika Hardison
I'm still in disbelief, like many of you are right now over the untimely death of actor Chadwick Boseman. I know it's a part of life, but it hurts. As a fan, I am speechless. Boseman loved Black people and we loved him back. He was our king, and the footprint he's left on Black culture is everlasting.
Since the days of his passing, I can't help but think about how he impacted Black nerd culture. There is a subset of Black nerds, better known as Blerds, who have been trying to make themselves heard and seen in mainstream media and conversations. Pop culture fans, especially those who participate in geek and fandom spaces, are often met with extreme racism and sexism. Black cosplayers, gamers, fans, and pop culture writers are constantly met with cruelty for enjoying things like anime, video games, and comic books. So much so that there's been an uprise in Black nerds creating communities online such as my magazine Fabulize, Black Girl Gamers and The Black Simmer.
Black Panther was not the first Black superhero to hit the big screen. In my lifetime alone, I've seen Meteor Man and other anti-heroes such as Blade, Storm, and Spawn. However, with the Netflix success of Luke Cage, it was without a doubt that Black Panther would be a success.
Once Marvel announced the official Black Panther premiere in 2017, I watched a lot of magic happen on social media and in the news. I watched predominately Black schools receive donations to ensure students could see Black Panther without burdening their parents with costs. The now infamous meme of the young boy dancing at school once he and his classmates found out they were going to have a cultural day surrounding Black Panther is now part of our meme-lexicon, just like the infamous, "Wakanda Forever!".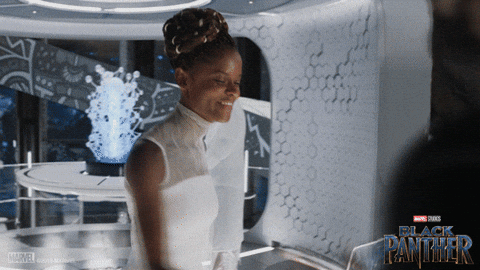 Black Panther premiered during Black History Month, how fitting. Black people bought African attire, and it felt like there was an ancestral connection that was collectively felt with Black people; both Black nerds and non-nerds alike. It was the first time I saw the word Afrofuturism used in mainstream media so frequently. The Huffington Post notes that "Afrofuturism is the reimagining of a future filled with arts, science, and technology seen through a Black lens."
Let's face it, in America, the default of literature and entertainment is whiteness. Some will argue that because the term Afrofuturism wasn't created by a Black person means that the Black diaspora does not drive the movement or lead the conversation. I'm here to tell you that is false because "The Wakanda Effect" challenged that notion both domestically and internationally.
We continue to see Black people who are inspired to not be afraid to center themselves proudly and boldly. Boseman as Black Panther presented a sci-fantasy where Black people survive without imperialism or colorism. In Wakanda, Black girls and women are visibly dark skin, unapologetically natural and magical because they exist with agency. Boseman, as King T'Challa, gave us a hopeful glimpse at what a world could look like when Black women are made a priority and are seen as strong, (and in some cases, even more) reliable and important as their male counterparts. Even in Boseman's interviews, he made it a point to consistently center Black women and consistently highlighted his fellow co-stars.
But most importantly, Boseman gave us a much-needed Black mainstream hero. He brought life to a concept that has not diminished. Currently, Black Panther remains a top 10 grossing movie of all time. Publishers and literary agents are scrambling to find Black writers to write science fiction, and now, more Black kids want books with characters that look like them.
There will be plenty of articles over the next few weeks that will highlight his grace and incomparable skills of portraying the best of Black excellency. While all of that is true, I want to remind people that his role in Black Panther pushed Black fandom culture to the front of the line after years of being a niche that only scholars, writers, and a niche fandom actively advocated for.
Boseman lived his life boldly and as fans and creatives, we should use that as a template going forward. He walked the perfect line of embracing his culture while using that love to teach through the arts. We all can aspire to want to be someone's superhero.